At times I tend to focus on the things I don't have or wish I had. I look at others and wish I could have their cooking skills, creativity, musical talent, confidence, personality, brains, looks and even their possessions. I want what others have, but forget all the blessings right before me.
Sometimes I go through trials and say, "why me?" What did I do to deserve this? I look at others and wonder why their life always seems so perfect and they have all the answers, while I'm worrying and anxious, always trying to figure things out.
And then God reminds me, "
count it all joy, my brothers, when you meet trials of various kinds, for you know that the testing of your faith produces steadfastness. And let steadfastness have its full effect, that you may be perfect and complete, lacking in nothing."

James 1:2
I have everything I need and more than I could ask for.
What blessings did you receive today?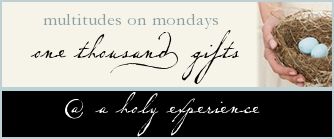 10 Eucharist
11 Prayer
12 Forgiveness
13 Peaceful mountain biking
14 Grandma's love
15 Family cooking
16 Sizzling bacon
17 Crying baby
18 Bugs
19 Inspirational blogs
20 Thank you notes
21 Bibles verses
22 Morning coffee
23 Alone time
24 Trials
25 Baby's laugh
26 See-saw
27 Words of appreciation
28 New day
29 Family lunch
30 Conversation