We went to visit our new home this past weekend. The construction is about 3 weeks away from being completed. We were so excited to see the new changes that had been made during the week. We stepped down into the basement and realized someone had vandalized our property. They cut out all the copper piping and slashed through our wiring. A mix of emotions washed over us. We felt angry at whoever had done this. Powerless because it was out of our control. And sad because all the progress that had been made was ruined. We had to remind ourselves that there was nothing we could do about it. And that this would all be taken care of.
Our Father, who art in heaven,
hallowed be thy name.
Thy Kingdom come,
thy will be done,
on earth as it is in heaven
Give us this day our daily bread.
And forgive us our trespasses,
as we forgive those who trespass against us.
And lead us not into temptation,
but deliver us from evil.
For thine is the kingdom, the power and the glory, for ever and ever.
Amen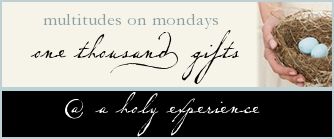 Continuing the Joy Dare by counting my One Thousand Gifts.
139 Mountains
140 The ocean
141 The beach I grew up on
142 The foundation of our new home
143 The end of construction being so close
144 The end of searching for a tenant
145 Fresh air
146 Fresh organic foods
147 Being spontaneous
148 Having a routine
149 Waking up to a new day
151 Rafting day trip with my husband
152 Seeing Baby C after being apart all day