Next week, at this time, we will be moved in to our new home. A home that we were involved in building from the ground up. When I look back, even a year ago from today, I would have never imagined a dream like this. It makes me so grateful for
all that God has pulled us through
. His love, mercy and grace over our family is beyond anything I could ever repay Him for.
Let us then with confidence draw near to the throne of grace, that we may receive mercy and find grace to help in time of need. Hebrews 4:16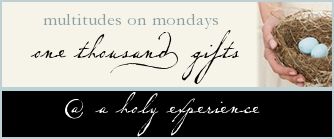 What can you look back on and thank God for all He has brought you through?
Continuing the Joy Dare by counting my one thousand gifts.
167
The benefits of water
168
My Shaklee GetClean water pitcher
169 A warm shower
170 Psalm 50:14 and 15
171 Warm air
172 Swimming
173 Tank tops
174 My whole family
175 Rolling out of bed in the morning
176 Packing
177 Picture frames that hold our memories
178 Peek-a-boo with Baby C